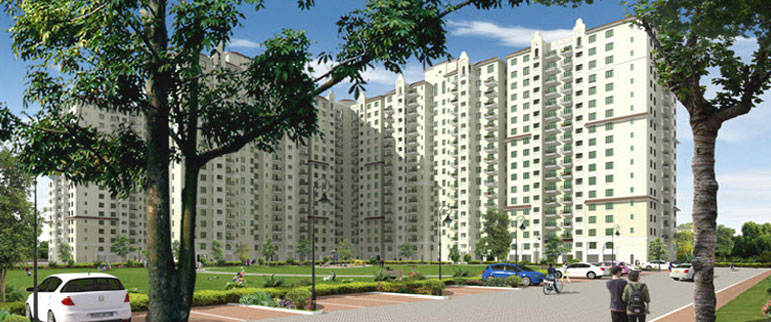 DLF Westend Heights, Bangalore
New Town - the premier choice for Bangalore living. A premium residential enclave that celebrates life in all its radiant splendour. Featuring spacious apartments and a rich selection of amenities. You will find in New Town, a residence specially appointed to maximize your comfort and convenience. In New Town premium high rise apartments are set against the backdrop of a vibrant living environment where fun, comfort, security, and serenity blend in perfect unison. Life at New Town satisfies all your needs and fulfills your heart's desire. Imagine a place where leisurely pursuits are always within reach. Imagine living where convenience is never more than around the corner.



Key Distance
Westend heights at New town BTM extention, Bangalore

3.5 km from Apollo Hospital
4 km from IIM-B
6.5 km from Jayadeva Flyover
8 km from Electronics City
9.5 km from Forum Mall
13 km from MG Road
16 km from Railway Station / Bus Stand
50 km from Airport




Amenities

Clubhouse with indoor facilities like gymnasium, banquet hall, restaurants, Billiards room, cards room, Spa, massage and beauty parlor; etc. The club will also have outdoor facilities like swimming pool and tennis courts.
Healthcare Centre
Shopping complex for convenient shopping
An early learning center
Landscaped gardens with ample space of children play area
IPTV enabled (Fixed line telephony, broadband and digital TV transmission) Safety & Security:

Gated entry into the complex
CCTV in common areas & surveillance system
Emergency call switch in apartments and intercom facility
Street lighting
Earth Quake resistant construction
"State of Art " Infrastructural facilities
24 hrs power back up
24 hrs water supply and water treatment plant, municipal water and Rainwater harvesting.




Living / Dining / Lobby / Passage
Floor
Vetrified tiles
Walls
Acrylic Emulsion / Oil bound distemper
Ceiling
Oil bound distemper
Bedrooms
Floor
Laminated wooden flooring for all bed rooms and study
Walls
Acrylic Emulsion / Oil bound distemper
Ceiling
Oil bound distemper
Kitchen
Floor
Anti skid ceramic tiles
Walls
Ceramic Tiles upto 2'-0" above counter and oil bound distemper
Ceiling
Oil Bound Distemper
Fitting / Fixtures
Conventional CP fittings, Single bowl SS Sink with drain board
Counter
Granite/ marble
Balcony
Floor
Terrazo tiles, anti skid ceramic tiles
Ceiling
Exterior Paint
Toilets
Floor
Anti skid ceramic tiles
Walls
Combination of ceramic tiles, oil bound distemper and/or Mirror
Fitting / Fixtures
Conventional CP fittings, White Chinaware.
S. Room
Floor
Terrazo / Ceramic Tiles
Walls
Oil Bound Distemper
Ceiling
Oil bound distemper
Doors
Internal Doors
Polished hardwood Frame, flush shutters / moulded skin door
Entrance Doors
Teak veneered & polished shutter / moulded skin door.
Windows
Powder coated Aluminium Glazings
Electrical
Modular type switches & sockets, copper wiring (fittings like fans, light fixtures, geysers, appliances etc. not provided).
Power Backup is 3-4 KVA per apartment
With over all suitable diversity
Security System
Card Access Control, CCTV for Basement parking and Entrance lobby at Ground Floor.
Boom barriers at entry & exit of the complex and at entry & exit of the basement / podium parking
Main Lift Lobby
Floor
Combination of one or more of Indian Marble / Granite / Terrazo / Vitrified Tiles.
Walls
Combination of one or more of Marble / Granite / Stone-cladding/
Acrylic Emulsion/ textured paint/ wall covering
Typical Floor Lift Lobby
Floor
Combination of one or more of Marble / Granite/ Terrazo / Vitrified Tiles.
Walls
Plaster and plastic emulsion/ Oil bound distemper.

Rate Plan

| | | | | |
| --- | --- | --- | --- | --- |
| Types | Size | Price* | Total Price* INR | Floor Plan |
| 2 bedroom + 2 Toilet | 1085 sq.ft | 2,100 INR (sq.ft) | 2,278,500 | View |
| 2 bedroom + 2 Toilet | 1225 sq.ft | 2,100 INR (sq.ft) | 2,572,500 | View |
| 3 bedroom + 2 Toilet | 1365 sq.ft | 2,100 INR (sq.ft) | 2,866,500 | View |
| 3 bedroom + 2 Toilet | 1395 sq.ft | 2,100 INR (sq.ft) | 2,929,500 | View |
| 3 bedroom + 3 Toilet | 1575 sq.ft | 2,100 INR (sq.ft) | 3,307,500 | View |
| 3 bedroom + 3 Toilet | 1585 sq.ft | 2,100 INR (sq.ft) | 3,328,500 | View |
| 3 bedroom + 3 Toilet | 1620 sq.ft | 2,100 INR (sq.ft) | 3,402,000 | View |
| 3 b/r + 3 Toilet + S. Room | 1820 sq.ft | 2,100 INR (sq.ft) | 3,822,000 | View |

Completion Date
Within 36 months form the date of Agreement
About Developer

DLF Projects include world class DLF Homes, DLF Apartments, DLF Flats, DLF Offices and fully equipped DLF Buildings and Towers for residential as well as commercial purposes. DLF Projects were commenced six decades ago with the DLF Constructions undertaking the residential colonies in Delhi in the area of Hauz Khas, Kailash Colony, and Greater Kailash etc. With the success of DLF Constructions and DLF Housing, Today DLF Projects include verticals like DLF Retail, Hospitality, DLF Malls, DLF Homes and DLF Houses. The discussion on DLF Projects deserves a mention of DLF SEZ-Special Economic Zones where DLF Group has Projects to offer complete business solutions by providing excellent infrastructure lie flyovers, roads etc so that development in that area can be facilitated.

The brilliance of DLF Group lies in the fact that there is a considerable amount of readiness for Foreign Direct Investment to be invested in DLF Projects.DLF Projects have altered the face of Gurgaon Real Estate as the latter has become synonymous with DLF Towers like the DLF Magnolia, DLF Richmond Park, DLF Silver Oaks, DLF Princeton Estate have been some of the DLF Projects that have provided DLF Housing to numerous residents.

As far as DLF Constructions of Commercial DLF Projects is concerned, DLF Cybercity Hyderabad, DLF IT Park Kolkata, DLF IT Park Pune, houses some of the leading Multi-national Companies owing to its fantastic infrastructure to meet the requirement of the Fortune 500 companies.

DLF Projects have won accolades in the Retail segment of Indian market for bring forth the "mall culture" and provide shopping, quality entertainment and leisure activities all under one roof. DLF Mega Mall, DLF grand Mall, DLF City Centre etc have been some of the reckoning names in the field of Shopping Malls in Delhi and Gurgaon. In fact, DLF Universal has undertaken some of the hi-tech and all-inclusive Shopping, Malls in New Delhi that are awaiting completion like the DLF Town Square, DLF Savitri. Some of the upcoming DLF Projects in India are DLF Andheri in Mumbai, DLF Hyderabad, DLF Ludhiana, DLF Chennai etc that promise to offer the best and create breakthrough in the retail culture in India.

DLF Apartments exude elegance, innovation and luxurious housing options for the opulent urban population. The construction of DLF Apartments and Homes is undertaken by DLF Home Developers. DLF Developers have initiated the development of DLF Townships and Homes that have all the modern and luxurious amenities like Clubs, Swimming Pools, Hi-tech Security Systems and Leisure and Recreation opportunities like Parks, Shopping Malls etc.

DLF Apartments have characteristically been exclusively unique to match the tastes of the elite. One can find DLF Apartments radiating a unique blend of aesthetics, architectural wonder and innovative originality in their creations.

DLF Gurgaon has changed the face of this once-upon a time dusty town of Haryana. The Delhi Development Act of 1946 proved a blessing in disguise for Gurgaon as it earned the attention of DLF Group for the construction of Buildings for Residential and Commercial purposes. The proximity to the Domestic and International Airports and easy connectivity to the Capital made Gurgaon a feasible destination for DLF Constructions and DLF Builders.

DLF Gurgaon transcends the parameters of architectural brilliance to offer phenomenal creations like the DLF City, DLF Malls, DLF City Clubs and DLF Golf Club.Thus, no discussion on Real Estate and Properties in Gurgaon can be complete without acknowledging the role, played by DLF Universal. In fact, it will not be erroneous to state that the Real Estate of Gurgaon is synonymous to DLF Real Estate.

DLF Buildings and DLF Projects in Gurgaon include DLF Offices like the DLF Square, DLF Homes and Housing, DLF Apartments and DLF Hotels.DLF Gurgaon has a plush DLF Golf Course that has the distinction of being a 24 hours club to suit the round-the-clock lifestyle of the corporate professionals. Not just that, but the DLF Country Club has received appreciation for its incredible amenities.

DLF City has some of the Residential wonders undertaken by the DLF Home Developers that incorporate some of the landmark trends that spell unique blend of style and comfort with admirable entertainment and shopping facilities.For instance, the DLF Mega Mall and DLF Grand Mall prove the DLF Gurgaon's sensation into DLF Retail. DLF Housing like DLF Richmond Park and DLF Silver Oaks are some of the luxurious DLF Homes that come with collaborated Financing and Housing related assistance.